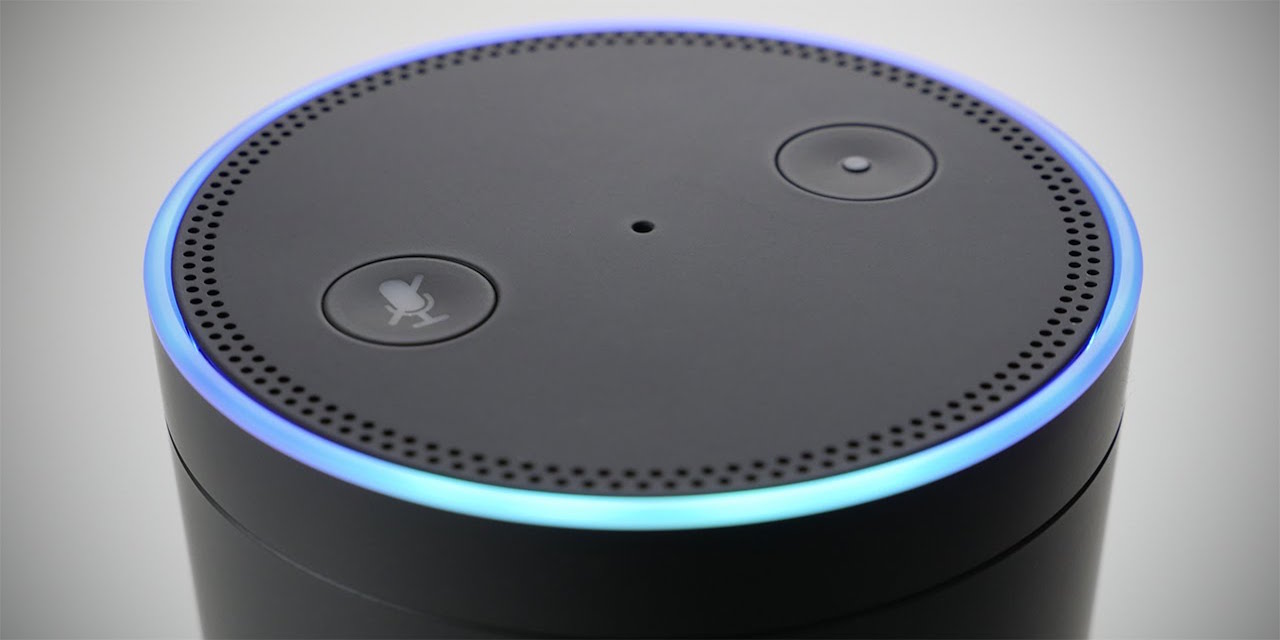 I've had my Amazon Echo smart speaker since they were available to the general public and can honestly say it has changed the way our family lives. We put it in our open floor plan kitchen/family room where the far-field mic can hear our voices up to 20 feet away and has pretty incredible speech recognition accuracy. We were a little weirded out calling it "Alexa" so we changed the default name to "Amazon" – the only other current choice.
My wife used to ask me what the weather was going to be like in the morning which would annoyingly (jk love of my life) require me to go to a computer or smartphone and ask the…same…question. The Amazon Echo allows me to strut my passive aggressive side so when she asked what the weather was going to be like, I would just repeat "Amazon, what's the weather going to be like today". My wife, who hates using Siri because she feels like it makes her look weird/uncomfortable talking to her iPhone, stopped asking me what the weather was going to be like. She started asking Echo.
Bam! Worth the money right there. But there's so much more…
Echo does so much more than just telling you your local/national hourly weather and weekly forecasts. MY favorite interaction in the morning is saying "Amazon, News" which brings up my morning briefing from Tune-In, ESPN, NPR and a few other sources you set up on the Echo app for iOS or Android. After catching up on the morning events, I'll say, "Amazon, Calendar". That reads my schedule off. All of this is happening while I am dressing/feeding the kids before school. And don't forget a quick traffic report before I head to work (OK, Coffee shop) Amazon.
Want sports scores? Just ask. Want to know conversions for liters to gallons/teaspoons to mL? Easy. Factoids while you cook? Echo knows almost everything on the web.
Overall, Amazon's database of information isn't as comprehensive as Google Now or even Apple's Siri or Microsoft's Cortana. But there's still tons of information available.
https://www.youtube.com/watch?v=KkOCeAtKHIc
In the afternoon and on weekends when cooking in the kitchen, you can ask Echo to play your favorite music saved on your Amazon Cloud or pretty much anything from Amazon Prime Music or your Pandora channel and boom. On your way out to get some food? Amazon just integrated Yelp reviews so Echo can recommend places to eat, entertainment and things to do.
I don't have a Hue light or Belkin WeMo, Philips, SmartThings, Insteon, and Wink smarthome devices. (Nest man currently) but they can all be controlled by the Echo. I've also never ordered an Amazon product from the Echo but OF COURSE you can do that too.
In fact, it gets smarter every day. The other day my 4 year old decided to tell it a "knock knock" joke. Turns out Echo has about 10 it threw back at him and a few of them even made me chuckle. If all of this isn't convincing, you can also set it up as a Bluetooth speaker for your Android or iOS devices or Mac/PC. Here it performs about as well as the best $100-$200 Bluetooth speakers on the market, albeit without a battery.
And that's one downside. It can't be moved without unplugging. It would be nice to take it up to the bedroom to listen to some music or be used as an alarm (theoretically you could unplug it and move it – but that's not realistic). You could also get a few of them for the house.
That's the other good news we have for you. Today, Amazon is running a special for Amazon Visa card holders. The Amazon Echo will drop to $129.99 shipped if purchased with the Amazon Visa Card (what better reason to get one than saving $50 on an Echo?). You'll also want to have an Amazon Prime account.
For a limited time, save $50 on the Amazon Echo with your Amazon.com Store Card or Amazon Prime Store Card. Here's how:
1. Add the Amazon Echo to your cart.
2. Select your Amazon.com Store Card or Amazon Prime Store Card as your payment method at checkout.
3. Enter promo code ECHODEAL for $50 off the Amazon Echo in the "Gift Cards & Promotional Codes" box. You will then see "$50 off Echo" in your Order Summary. Limit 1 per customer.

Current price is $179.99, so $129.99 after discount.
The Echo is a product that is alone in its functionality. Sure you can yell "Hey Siri!" to your charging iPhone or speak into your Apple TV Remote or the equivalent on Android but the Echo is the only device which can bring you information from 20 feet away, hands free, effectively.
https://www.youtube.com/watch?v=FQn6aFQwBQU
---
Subscribe to the 9to5Toys YouTube Channel for all of the latest videos, reviews, and more!