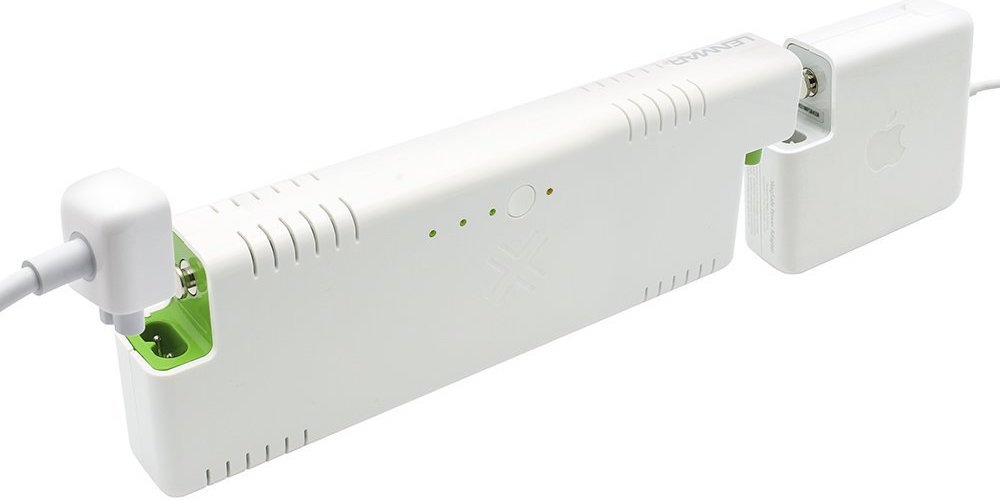 Update (12/11 11:40am): Now currently available via trusted third party sellers on Amazon for $25 shipped.
The ChugPlug Power Pack integrates directly with your Macbook's MagSafe, adding 3-4 hours of usage without having to directly plug into an outlet. It is great for long trips or just knowing you have a few hours of extra MacBook Air/Pro charge you can throw into a backpack at any time.  9to5Toys Specials has the ChugPlug now for $30 shipped ($117 Best Buy 4 stars, $30 Amazon 3rd parties 3.1/5 star Amazon reviews).
This innovative external battery was a winner at CES 2014. It looks like an elongated MagSafe power brick, and it slots into the power adapter socket on your charger. In use, it can provide an 11-inch Macbook Air with an extra four hours of power, or a three-hour boost for the larger Air and Pro. The outside has a clean white finish which mimics the MagSafe, and the battery weighs just over one pound. To recharge the ChugPlug, you plug in your standard MagSafe power adapter. Four LEDs show the charging status, and good quality lithium polymer cells provide excellent performance.
Save 76% off the regular price for the ChugPlug Power Pack, with free shipping.
---
Subscribe to the 9to5Toys YouTube Channel for all of the latest videos, reviews, and more!