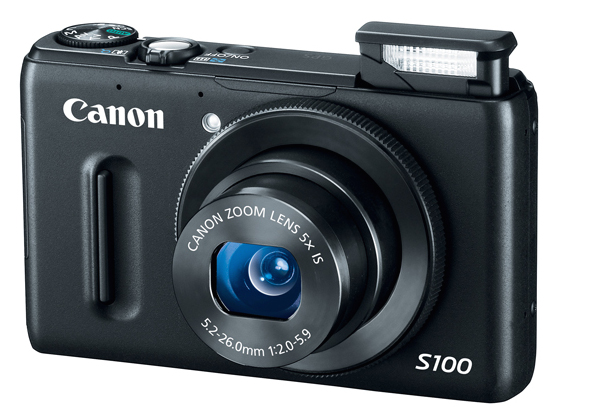 Canon offers the refurbished PowerShot S100 Digital Camera with a one year warranty for $119.99, which is $110 below the original price of $229.99. During checkout you'll save another $10. That brings your total down to just $109.99 with free shipping.
It packs 12.1 Megapixels, a 1/1.7-inch CMOS sensor, and 3-inch TFT Color with wide viewing angle. Rated 3.9 out of 5 stars from hundreds of Amazon reviewers.
More on Canon refurbished products:
Products that are refurbished must pass a comprehensive quality assurance inspection before final packaging and shipment. Rigorous function and cosmetic inspections are performed by trained Canon technicians so that each refurbished product meets operational specifications and strict cosmetic standards that we have established.
Feature breakdown via Canon:
Canon DIGIC 5 Image Processor
The latest-generation Canon DIGIC 5 Image Processor brings phenomenal increases in processing speed and power. Improved chip architecture and algorithms deliver greatly expanded functionality with further refinement in image quality. Improved noise reduction produces clearer images when shooting in low light at high ISO speeds. Enhanced i-Contrast performance adjusts differences between light and dark areas to achieve even more natural-looking results. The faster processing speed also results in faster continuous shooting capability while maintaining full image quality. The DIGIC 5 Image Processor also makes possible a new, highly advanced automatic white balance system. Whereas conventional white balance makes an overall adjustment based on a single type of light source, the new Canon Multi-Area White Balance analyzes several areas of the image to determine whether different adjustments are needed, for example, for the main subject and the background.

Canon CMOS Sensor
The PowerShot S100 digital camera employs a new Canon 12.1 Megapixel CMOS sensor. Inheriting much of the advanced technology developed for Canon EOS DSLR cameras, this sensor delivers state-of-the-art imaging performance and is optimized for use in compact cameras, such as the PowerShot S100. Utilizing a sophisticated light-capturing design, it provides high sensitivity for improved high ISO capture without increased noise. It is also a high-speed design, capable of rapidly capturing and moving image data to the processor, enabling faster continuous shooting and faster autofocus.

Canon HS SYSTEM
The Canon HS SYSTEM lets you take bright, clear photos in an even wider range of shooting situations. Beautiful low-light shots are possible with minimal noise and maximum detail in highlight and shadow areas. The system is the result of two technologies brought together in PowerShot cameras: a high-sensitivity imaging sensor, which is able to capture more light; and the DIGIC Image Processor, which actively reduces noise with high-speed image processing. The 12.1 Megapixel Canon CMOS sensor in the PowerShot S100 incorporates advanced light reception technology that enhances sensitivity. The new DIGIC 5 Image Processor provides a major boost in noise reduction, expanding the usable ISO range to an amazing high of ISO 6400. The Canon HS SYSTEM thus lets you use higher shutter speeds to capture clearer images with reduced noise and blur.

Canon Full HD Video Advantage
In addition to the Canon HS SYSTEM, the combination of the advanced CMOS sensor and DIGIC 5 Image Processor in the PowerShot S100 makes it possible to shoot crisp, clear high definition video. Imagine the fun and excitement of being able to shoot spectacular 1080p Full HD video with stereo sound that you can later watch on your HDTV or download to your computer to share with family and friends. In addition to being able to shoot Full HD 1080p video at 241 frames per second, the PowerShot S100 can also shoot 720p HD video at 302 frames per second.

5x Optical Zoom and 24mm Wide-Angle Lens
The PowerShot S100 features a 5x Optical Zoom that will appeal to enthusiasts and casual shooters alike. The zoom range starts at 24mm (35mm equivalent) at full wide-angle, providing the coverage needed to capture indoor group photos, tall buildings, and dramatic landscapes. Full telephoto is 120mm (35mm equivalent), providing a versatile range that includes focal lengths perfect for portraits and close-ups. An online resource offering digital imaging education and photo and video sharing capabilities exclusively for registered owners of qualified Canon products. Members can read up on topics related to their products, how-to articles, and more.
---
Subscribe to the 9to5Toys YouTube Channel for all of the latest videos, reviews, and more!