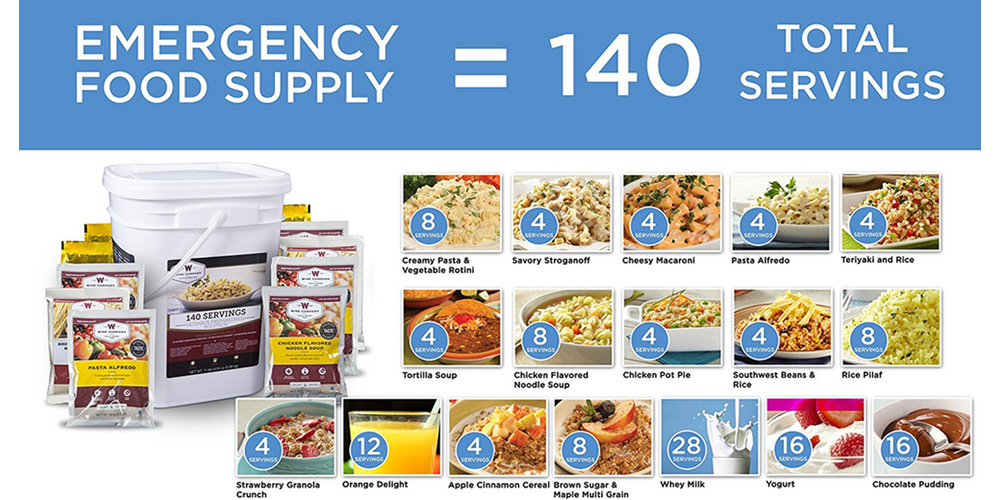 As part of today's Gold Box Deals, Woot via Amazon is offering the Wise Company 140-Serving Ultimate Preparedness Pack for $99.99 shipped. That's $139 off the original list price and the lowest we've seen for it at Amazon. 
This Ultimate Preparedness Pack provides a food supply in the event of an emergency. All you have to do is add water and the packs are ready in minutes. The food is dry so it has a shelf life of up to 25 years. The kit includes gourmet entrées, breakfast, desserts & drinks. Rated 3/5 stars by Amazon shoppers.
This Kit consists of Wise Company's classic Emergency Gourmet freeze-dried and dehydrated meals for Breakfast, Lunch, and Dinner. It also includes two excellent drink options – a high-electrolyte Orange Drink Mix and Powder Whey Milk. This food storage package includes emergency essentials for producing quick, tasty meals, designed to get you started with your preparedness needs. These new recipes have less sodium and trans fat. Easy to prepare, no cooking is necessary, just add water to re-hydrate! Shelf-life of up to 25 years. Includes: Creamy Pasta & Vegetable Rotini (8 Servings), Savory Stroganoff (4 Servings), Cheesy Macaroni (4 Servings), Pasta Alfredo (4 Servings), Teriyaki and Rice (4 Servings), Tortilla Soup (4 Servings), Chicken Flavored Noodle Soup (8 Servings), Chicken Pot Pie (4 Servings), Southwest Beans & Rice (4 Servings), Rice Pilaf (8 Servings), Strawberry Granola Crunch (4 Servings), Orange Delight Drink Mix (12 Servings), Apple Cinnamon Cereal (4 Servings), Brown Sugar & Maple Multi Grain (8 Servings), Whey Milk Drink Mix (28 Servings), Yogurt (16 Servings), Chocolate Pudding (16 Servings)
FTC: We use income earning auto affiliate links. More.
---
Subscribe to the 9to5Toys YouTube Channel for all of the latest videos, reviews, and more!