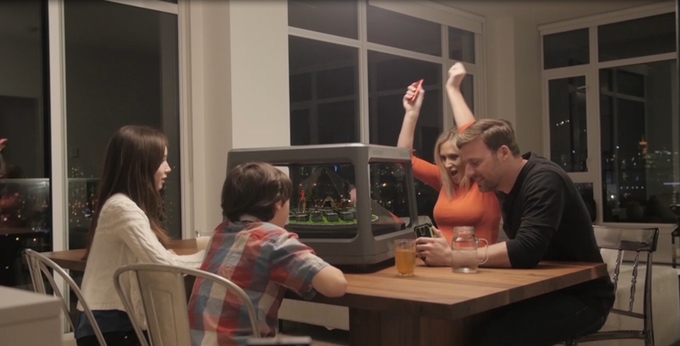 Each year our smartphone and tablet screens get sharper and more vivid. Sure they look beautiful, but they're still flat. Holus by H+TECHNOLOGY turns those 2D images into a 3D holographic experience. The result is similar to the Holograms of Princess Leia in Star Wars and Tupac on stage at Coachella.
[vimeo 129796883 w=704 h=396]
The idea for this tabletop display is to humanize technology as well as our social media interactions. The games, images, and videos Holus transforms are supposed to bring families and friends together. Sort of like when people used to actually interact with each other while playing boardgames. Since it works with any 2D digital content, you can even use it to get closer to loved ones while video chatting. If it works as promised, this could have huge implications for global businesses as well as personal relationships.
What's more, H+TECHNOLOGY is supporting the developer community by making Holus an open platform and dishing up SDKs for Unity3D and Unreal game engines. Plugins for Leap Motion, Emotiv, and Occipital are also available.
Beyond the mind-blowing holographic technology, Holus comes with a host of other built-in features including HDMI connectivity, USB charging, speakers, and a tablet dock. Its physical footprint is 230 x 450 x 450mm and the viewable image size is 191.5 x 405 x 405mm.
Holus sailed by its Kickstarter goal of $40,296 with pledges currently at $100,915. A pledge of about $443 will get you a Holus Home Edition with an estimated delivery of early 2016.
---
Subscribe to the 9to5Toys YouTube Channel for all of the latest videos, reviews, and more!