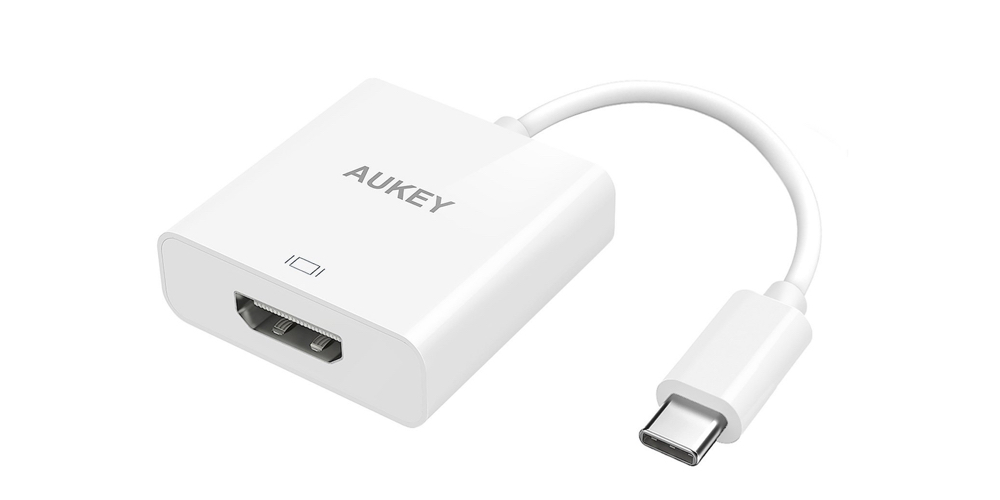 Aukey Direct via Amazon offers its USB 3.1 Type C to HDMI Adapter for $19.99, but if you use the code JQBLKFNR the price drops to $13.99 Prime shipped. That's $6 off the regular sale price and the lowest we've seen since before the holidays last year.
This adapter lets you connect most USB-C devices like the new MacBook or the Chromebook Pixel to a monitor or TV with an HDMI connection. You can mirror the display or use as a second monitor. It supports 1080P and 4K full HD. Rated 4.1/5 stars from 45 Amazon customers.
If you don't have an HDMI monitor, Aukey has a USB 3.1 Type C to VGA Adapter for $12.99 Prime shipped when you use the code 9VH9BRKA at checkout. You can even pick up an HDMI to VGA Adapter for $8.99 Prime shipped with the code PO96MVCG. Like most Aukey products, these adapters have all received 4/5 star ratings and great reviews.
Connect to the future
Type-C is the new future-proof connection standard delivering faster speeds, improved power efficiency and a cutting edge reversible design. With native support for exciting new USB standards such as USB 3.1 and USB power delivery, Type-C is well positioned to become the unified connector solution. Convenient and practical, connect to the future with the versatile Type C USB 3.1 HDMI Multiport Adapter.

Powerful yet power saving
With full support for the new IEEE 802.3az (Energy-Efficient Ethernet) standard, power consumption is reduced by 45% to 85%. By lowering heat dissipation, the standard also provides the innovative HDMI Multiport Adapter with enhanced durability and extended product life to protect your investment.
---
Subscribe to the 9to5Toys YouTube Channel for all of the latest videos, reviews, and more!