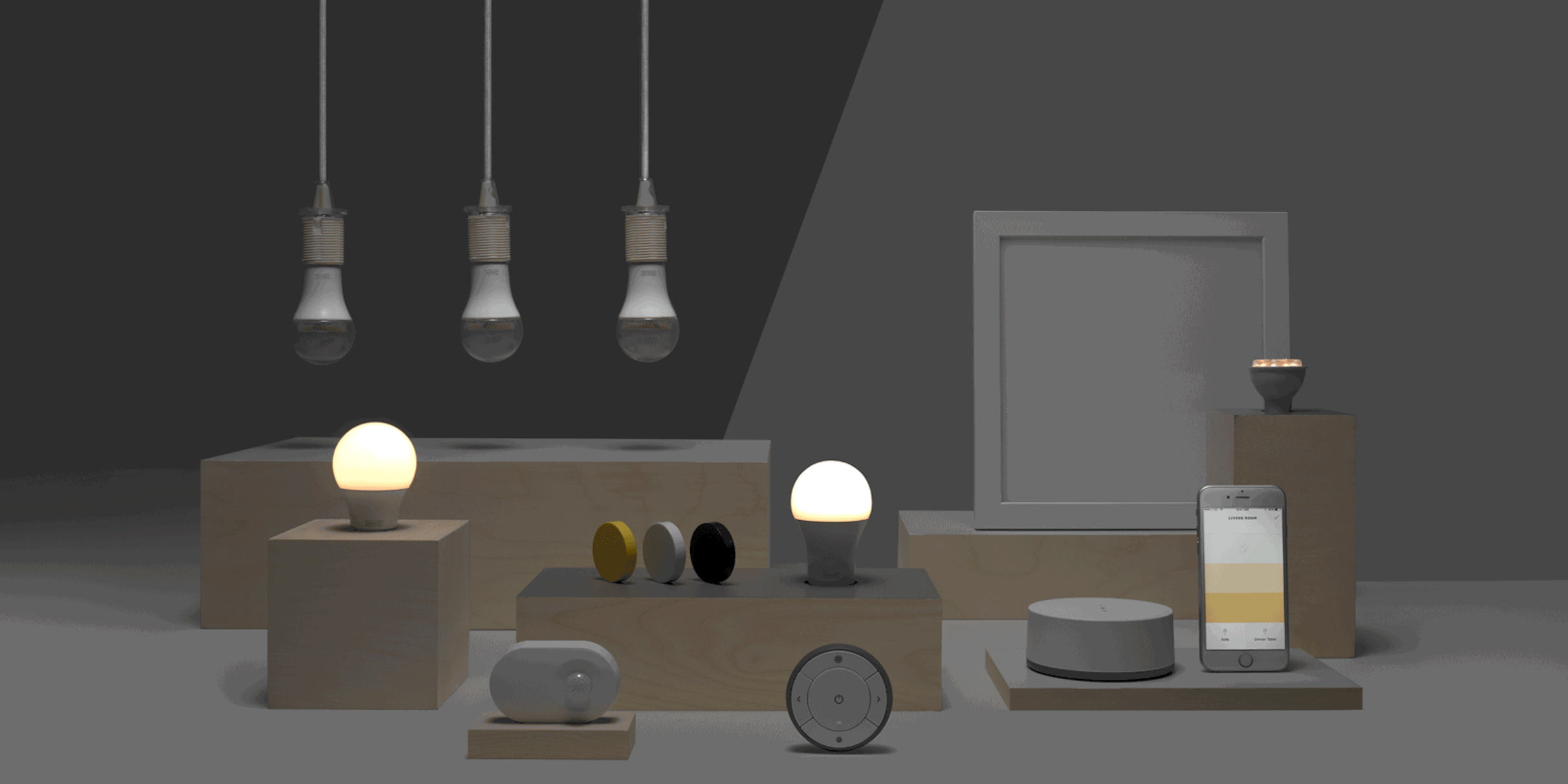 IKEA is ready to take the smart home products market over with its new affordable Trådfri lineup (Swedish for wireless). The ZigBee-enabled system will center around an internet/app connected hub and will consist of a series of smart bulbs, remotes, motions sensors, cabinet door/wall lighting and more. 
On top of the typical smart bulbs and sensors, IKEA has a promotional video (seen below) showing off a pretty interesting little dimmer switch/light controller. The tiny puck-like device is completely wireless and can be used as an alternative to the smartphone app for controlling the new smart Ikea LED bulbs. From the video, it appears as though you just twist the small puck in your hand (not in contact with any kind of surface) to dim the lights. There is also a larger, more robust remote that features audio playback controls and more that will presumably offer even more control that its little brother.
The smart LED bulbs are rated to last for around 25,000 hours and will initially ship in three temperature options: 2200K, 27000K and 4000K. We are also seeing a series of wall and cabinet door lightning options which could suggest IKEA is planning on spreading its smart technology through the rest of its modular furniture options in the future. As for app control, it sounds like we will be getting all the usuals including scheduling, vacation mode, room-by-room settings, color and more.
The system rolled out in select European countries late last year, and already appears in the Swedish online storefront. It looks as though we will be seeing a wider roll out come March 31st.
As you likely expected, IKEA will be pricing its new Trådfri range very aggressively. The smart bulbs will start at just $16.99 with a standard E17 going for around $22.60 or so. We are also seeing smaller bundles with a motion sensor or remote starting at just $28. The main base bundle with a hub/gateway, a remote and a couple of bulbs will go for around $85.50. Keep in mind these prices are based on the Swedish listings and are subject to change.
It appears as though, the hub/gateway it not necessary to run a single bulb judging by the way they are being sold, but we can't say for sure just yet. There's no telling what the quality will be like on these insanely affordable smart bulbs, but if they are even mildly serviceable, we will more than likely have ourselves another major player in the market this spring. 
---
Subscribe to the 9to5Toys YouTube Channel for all of the latest videos, reviews, and more!